As a leading value-added engineering and manufacturing company, Dynomax Inc. is often quoted or featured in business and trade publications.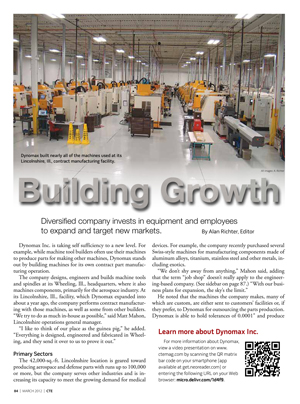 Cutting Tool Engineering » Building Growth » March 2012
Diversified company invests in equipment and employees to expand and target new markets. Dynomax Inc. is taking self sufficiency to a new level. For example, while machine tool builders often use their machines to produce parts for making other machines, Dynomax stands out by building machines for its own contract part manufacturing operation.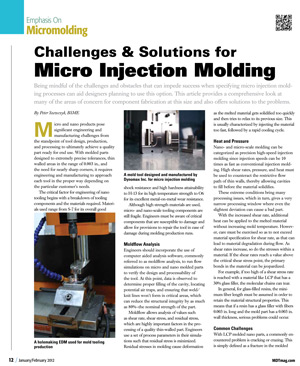 Medical Design Technology » Challenges & Solutions for Micro Injection Molding » January/February 2012
Being mindful of the challenges and obstacles that can impede success when specifying micro injection molding processes can aid designers planning to use this option. This article provides a comprehensive look at many of the areas of concern for component fabrication at this size and also offers solutions to the problems.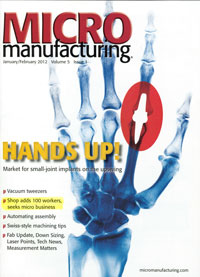 MICROmanufacturing.com » Prescription for medical expansion » February 2012
Editor Alan Richter discusses the recent expansion of Dynomax Inc., headquartered in Wheeling, Ill. The company, which is targeting the medical device market for growth, has added two new facilities in the past two years.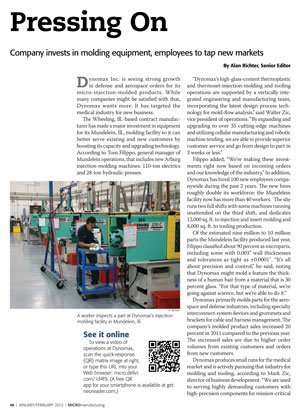 MICROmanufacturing » Pressing On » January/February 2012
Dynomax Inc. is seeing strong growth in defense and aerospace orders for its micro-injection-molded products. While many companies might be satisfied with that, Dynomax wants more. It has targeted the medical industry for new business.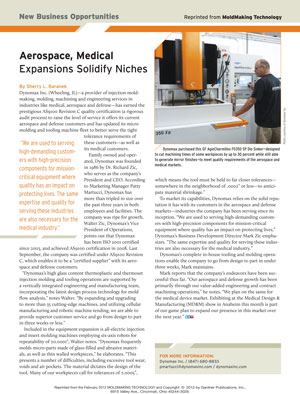 MoldMaking Technology » Aerospace, Medical Expansions Solidify Niches » February 2012
Dynomax Inc. – a provider of injection moldmaking, molding, machining and engineering services in industries like medical, aerospace and defense – has earned the prestigious AS9100 Revision C quality certification to raise the level of service it offers…
Manufacturing Engineering » Solving the Manufacturing Costing Equation » December 2011
Contract manufacturers, job shops and OEMs bolster the bottom line with effective cost estimating methods. Contract manufacturer Dynomax Inc. specializes in aerospace components, where cost estimates must adhere to many customer-specific requirements.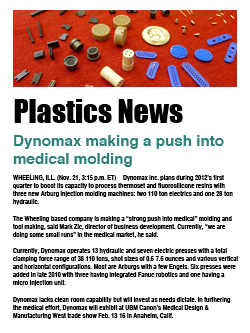 Plastics News » Dynomax making a push into medical molding » November 2011
Dynomax Inc. plans during 2012's first quarter to boost its capacity to process thermoset and fluorosilicone resins with three new Arburg injection molding machines: two 110-ton electrics and one 28-ton hydraulic. The Wheeling-based company is making a "strong push into medical" molding and tool making, said Mark Zic, director of business development.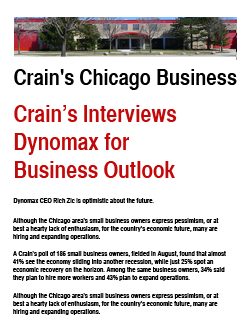 Crain's Chicago Business » Chicago entrepreneurs investing cautiously in growth » October 2011
Although the Chicago area's small business owners express pessimism, or at best a hearty lack of enthusiasm, for the country's economic future, many are hiring and expanding operations. Read more for Dynomax CEO Rich Zic's optimistic outlook.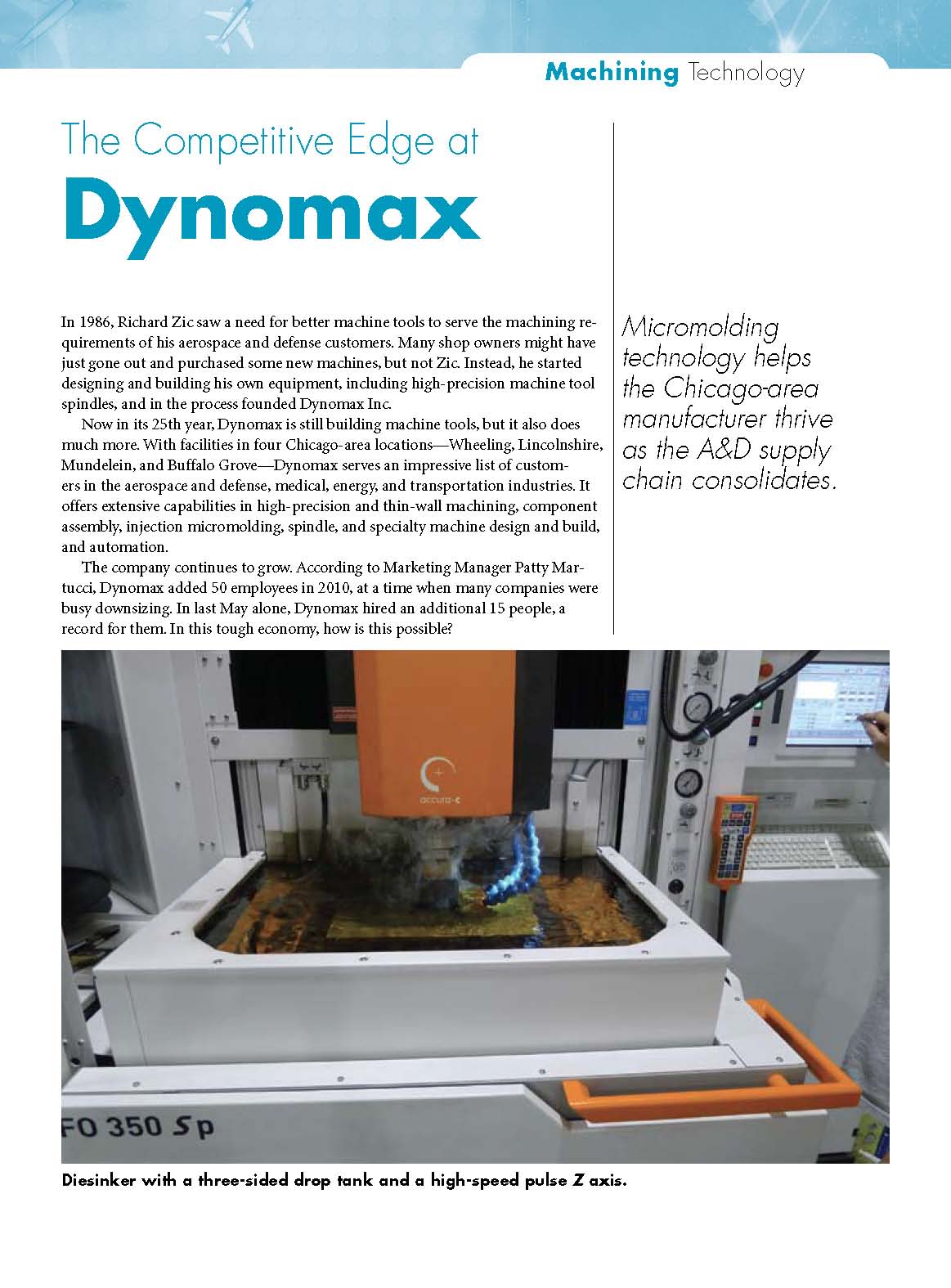 Aerospace & Defense Manufacturing 2011 » Manufacturing Engineering » The Competitive Edge at Dynomax » September 2011
In 1986, Richard Zic saw a need for better machine tools to serve the machining requirements of his aerospace and defense customers. Many shop owners might have just gone out and purchased some new machines, but not Zic. Instead, he started designing and building his own equipment, including high-precision machine tool spindles, and in the process founded Dynomax Inc.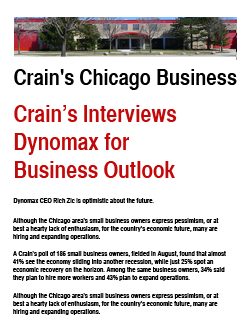 Crain's Chicago Business » Silicon City: Local player aims to grow in robotics field » March 2011
The list of vendors at last week's robotics industry trade show at McCormick Place, Automate 2011, included plenty of household brand names, such as Kawasaki Robotics, Mitsubishi Electric Automation and Toshiba Machine Co. But not every robotics manufacturer is a multinational giant. Dynomax Inc., is a Wheeling-based firm that's in the midst of a serious growth spurt.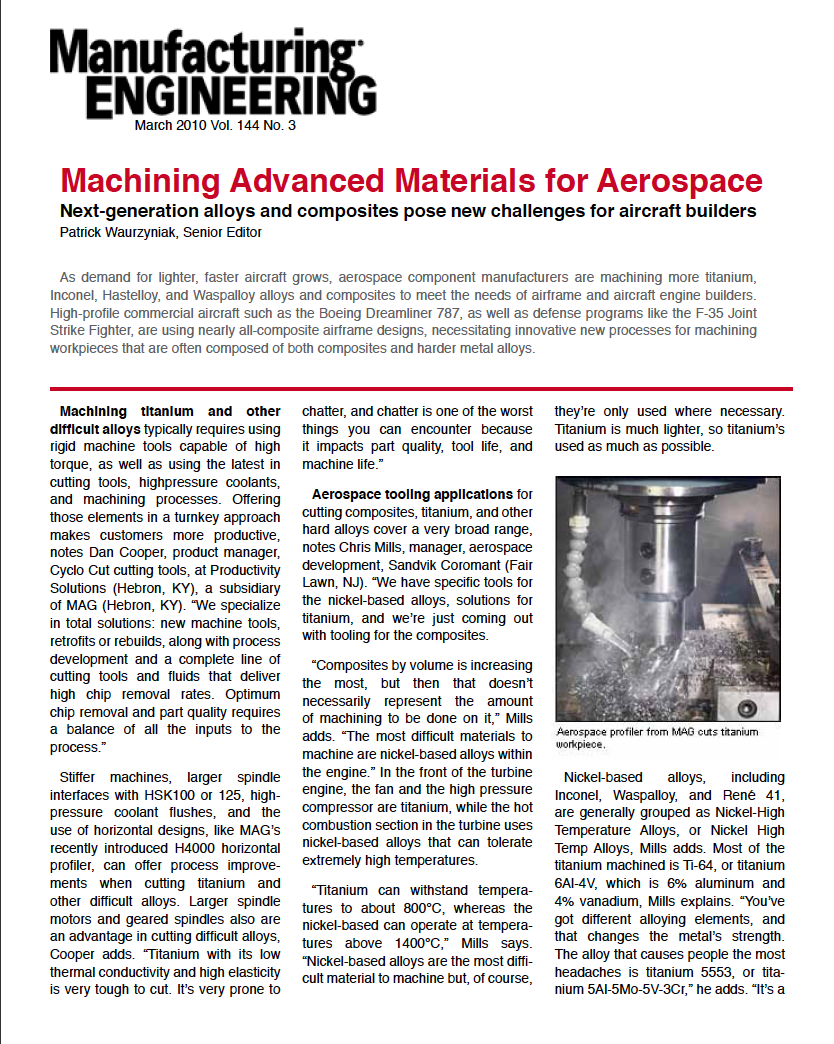 Manufacturing Engineering » Machining Advanced Materials for Aerospace » March 2010
As demand for lighter, faster aircraft grows, aerospace component manufacturers are machining more titanium, Inconel, Hastelloy, and Waspalloy alloys and composites to meet the needs of airframe and aircraft engine builders. High-profile commercial aircraft such as the Boeing Dreamliner 787, as well as defense programs like the F-35 Joint Strike Fighter, are using nearly all-composite airframe designs, necessitating innovative new processes for machining workpieces that are often composed of both composites and harder metal alloys.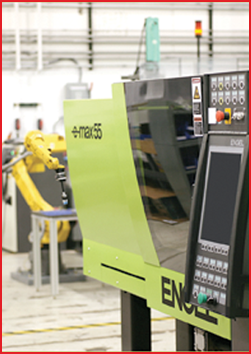 Plastic News » New all-electrics suit Dynomax » October 2009
Dynomax Inc. recently purchased two Engel E-max 55-ton injection molding machines to mold its Nano series of connectors for military and aerospace customers. The presses also could be used for custom molding.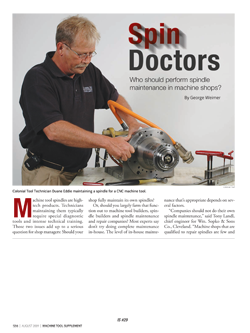 Cutting Tool Engineering » Spin Doctors » August 2009
Machine tool spindles are high tech products. Technicians maintaining them typically require special diagnostic tools and intense technical training. Those two issues add up to a serious question for shop managers: Should your shop fully maintain its own spindles?