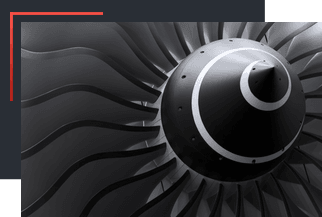 Dynomax is an engineering and manufacturing leader in the aerospace industry. We have an unwavering commitment to get the job done right and deliver on time. Our turnkey solutions give you simplified logistics, reduced costs and superior quality components and sub-assemblies - from engineering support and prototypes, to custom-kitted, dock-to-stock solutions.
Dynomax is vertically integrated and features in house metal finishing capability with Level III NDT capability. This unique capability will shave weeks off of your lead-time versus the competition.
Dynomax is an ISO 9001, AS9100 and ITAR registered company.
You can be confident to have us as a trusted member of your supply chain.
Aerospace Applications:
Airframe Components and Assemblies

Bulkheads
Longerons
Fittings
Landing Gear Assembly and Test
Wing Ribs
Splice Plates
Floor Beams
Seat Rails
Fuselage Ribs
Trailing edge components
Primary flight control
Flap Tracks
Slat Tracks
High lift sector gears
Keel Beams
Wing Spars

Automated Production Cells
Space Systems
Weaponry components
Missile/Rocket Fuselage assembly aft skirts, frustums, rings.
Dynomax is an industry leader in the field of high quality contract machining. We have worked with some of the biggest names in the aerospace, defense, transportation, energy and medical industries. We manufacture parts for many of the world's most demanding applications. Dynomax has proven itself capable of producing complex components based on strict customer design specifications.
Over 200 pieces of CNC equipment
500,000 sq ft of production space
Dynomax has standardized its machine tool base to Makino, DMG Mori Seiki, Kitarmura, and Parpas products. This allows for rapid machinist training and the ability for staff to cross train and run all capital assets effectively.
From small parts zero to 30 inches, to large parts up to 23 feet.
From aluminum and stainless steel, to titanium and exotic metal alloys.
From raw material to finished product and assembled components.
From engineering support and prototypes, to custom-kitted, dock-to-stock solutions.
From early stage production through dockside ready components, Dynomax offers a vast variety of precision metal machining services to provide our customers with efficient solutions.
Value-added Services
Dynomax also offers a wide variety of support services, both in house and through our trusted suppliers that have been vetted through years of service.
Assembly
Painting
Precision Plating
Soldering
Tumbling
Deburring
Media Blasting
Hardness Testing
NDT
Heat Treating
Sheet Metal Fabrication
Kitting