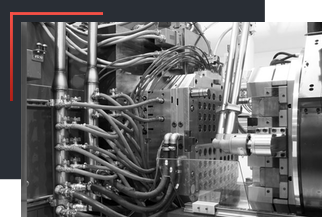 Dynomax is a full-service injection molder capable of providing a wide range of services, consultation, tooling, and quality assurance.
When it comes to precision molding of all grades of thermoplastic resins, composites and silicone, Dynomax produces the highest quality molded parts in the industry. We have over a multitude of horizontal and vertical molding presses that target zero defects of molded parts. The closer the tolerance and higher the complexity, the better!
Our specialty is small to micro-molding applications!
From the design stage through prototyping, in-house mold construction to micro tolerance injection molding, Dynomax can service your needs. Some of our services include mold sampling, mold troubleshooting, first article inspection, in-process inspection, insert molding, short runs, hot runner multi-cavity production and multi component parts.
We have extensive experience with all thermoplastics, both common and exotic, such as LCP polyesters, PEAK, Teflon, Polycarbonates, PPS, ABS, Nylons, Propriety Composites, Silicone, as well as numerous others frequently used in the Aerospace, Defense, Medical and Transportation Industries.
All mold building, injection molding, automation, maintenance and repair are done in-house by our staff of craftsmen. This enables Dynomax to control and manage the entire process, for exceptional quality assurance.
Dynomax continuously invests in new technology, such as servo-electric, advanced two-stage hydraulic and computer-controlled presses. We utilize high temperature oil thermolators and electronically-controlled drying equipment to ensure high-quality, cost-effective cycles.
Our key capabilities include:
Injection and insert molding
Small, micro and micro-miniature components
Tight tolerances of ± 0.0002'' (0.005 mm)
38 to 110 ton capacity
0.6 to 7.6 ounce shot sizes
Arburg and Engel electric and hydraulic presses
Three genres of material

Thermoplastic
Thermoset
Silicone

Automation

6-axis robots with repeatability of ± 0.02 mm

Material drying systems
Tooling / Mold making
Dynomax manufactures and supplies several types of production tooling including molds, fixtures and jigs. Our experienced personnel excel in the design and manufacture of custom tooling for a variety of industries, to make product components of consistent size, shape, and quality.
We utilize advanced technology and equipment, such as EDM machines, CNC mills, automatic water grinders, surface grinders, and form grinding for specialty applications. All our design, tooling and mold building is done in-house to our customer's specifications.