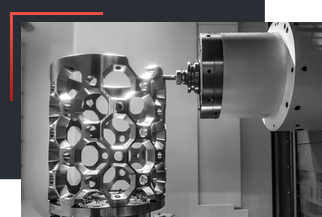 Dynomax is an industry leader in the field of high quality contract machining. We have worked with some of the biggest names in the aerospace, defense, transportation, energy and medical industries. We manufacture parts for many of the world's most demanding applications. Dynomax has proven itself capable of producing complex components based on strict customer design specifications.
From small parts zero to 30 inches, to large parts up to 23 feet.
From aluminum and stainless steel, to titanium and exotic metal alloys.
From raw material to finished product and assembled components.
From engineering support and prototypes, to custom-kitted, dock-to-stock solutions.
From early stage production through dockside ready components, Dynomax offers a vast variety of precision metal machining services to provide our customers with efficient solutions.
Value-added Services
Dynomax also offers a wide variety of support services, both in house and through our trusted suppliers that have been vetted through years of service.
Assembly
Painting
Precision Plating
Soldering
Tumbling
Deburring
Media Blasting
Hardness Testing
NDT
Heat Treating