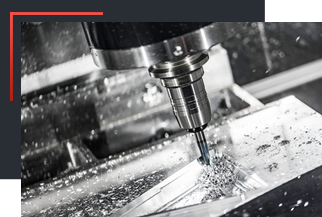 Dynomax utilizes high-speed vertical and horizontal Computer Numerically Controlled (CNC) machining centers to mill, drill, and grind high-precision components in high or low volumes. We can produce parts of various materials using the latest precision design software, super precision measurement equipment and high-precision machining centers (tolerances of +/- 0.0001).
Here are the highlights of just a few of our over 70 machining centers at our multiple locations.
XS Parpas Full 5-axis Gantry Machining Center
Working Area: 23'x8' Envelope
Travel: 19.6'x9.8'x4.9'
Table Load: 16.5 tons/sq.m
Spindle Speed: 7,000 to 24,000 rpm
Dimensions: (WxLxH) 30'x25'x20'
Total Machine Weight: 227,000 lbs
Material: High Strength Steel and Aluminum, Titanium Alloys, Carbon Fiber
Kitamura Bridgecenter-10 Machining Center
Table Size: 54''x118''
Travel (XYZ): 100''x 69''x31.4''
Spindle Speed: 10,000 rpm- BT50
Tool Storage: 30 - 80 Tools
Rapid Feed X,Y / Z: 24 / 24 m/min
Positioning Accuracy: +/- 0.002 mm; / Full Stroke
Repeatability: +/- 0.001mm
Intelligent Advance Control System
High-Efficiency Chip Management System
Dynomax Dynomill 3- & 5- Axis Vertical Machining Centers
18,000 rpm Dynomax brand spindle
Envelopes up to 48" x 24" x 24" travel with 20.5" rotary table diameter
30 position tool changer with 2 second tool changeover
Table load capacity up to 1500 lbs
1575 ipm rapid traverse rate
X-Y positioning tolerance .0005"
Z axis depth tolerance .001"
All machines are calibrated to ASME B5.54
Materials: Aluminum, Stainless Steel, Titanium, Exotics
Our precision CNC milling and turning centers specialize in producing complex parts with tight tolerances. We can produce components utilizing stainless steel, aluminum, titanium, and exotic alloys.
Other capabilities include Drilling, Slitting, Boring, Grinding and Broaching.