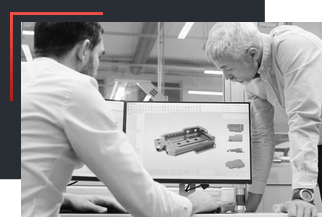 From basic material selection to more complex sub assemblies and in some cases completed assemblies, Dynomax expertise is proven to be invaluable to our customers, saving them valuable time and helping to bring our experience to work for them.
We at Dynomax believe that our consolidated effort with our experienced staff will bring your project to a proper start as well as successful completion.
Materials Consulting
Develop new alloys for specific applications.
Fabrication of alloys or composites into useful configuration.
Design and control of processes that will produce mechanical, physical, and chemical properties required for any specific application.
Solve complex problems that arise when using specific alloys in applications that span great environmental changes, such as wide temperature, pressure, and chemical stresses.
Dynomax can quickly identify problem areas in material applications and provide beneficial scientific solutions.
Dynomax has many years of combined experience dealing with complex issues, particularly in the demanding areas of aerospace, defense, military and other industries. Our in-house team of Metallurgical and Material Science Ph.Ds can assist in complex material selection, failure analysis, surface condition examinations, structural analysis and more.
Application Consulting
Dynomax's application engineers are highly skilled and experienced in providing high quality consultation services. Whether it's matching a customer with the ideal Dynomax spindle or recommending a new material for injection molding runs, our team is dedicated to getting our customers what they need when they need it.
Prototyping
Dynomax is fully equipped to support the rapid prototyping needs of our customers. With engineering, manufacturing and quality control all under one roof, we can seamlessly design, produce and inspect finished product in a short time frame. From one-off piece parts to small production runs, Dynomax will efficiently fulfill your manufacturing needs.
Engineering Consulting
Our technically skilled engineering workforce ensures successful engagement of resources for projects and provides our customers with complete integrated engineering solutions. From conceptual design to operational equipment we bring innovative solutions that deliver cost saving, practical and code compliant designs. Our depth of experience and knowledge spans a wide range of industries from aerospace, defense, medical to electronics and machinery & equipment.
Feasibility Analysis
In the pre-design phase of a new project or endeavor, the Dynomax engineering team carries out a feasibility analysis based on information obtained from a prospective customer. They work diligently to construct a quantitative valuation of the project requirements using a knowledge acquisition process. This process is centered on the best, most efficient ways to optimize the manufacturing needs of the customer. Information is collected, analyzed and translated into quantitative and measurable values, which subsequently play a vital role in the customer's future expansion or equipment replacement plans.
Automation / Robotics
Develop your competitive advantage by utilizing Dynomax specialty machine cells to pick and place your company at the head of the pack.
At Dynomax, we help our customers reap the benefits of an automated process for their unique applications. By utilizing the most sophisticated advances in manufacturing technology, Dynomax provides flexible automated solutions that enable customers to reduce costs, improve quality, and increase industrial productivity. These benefits give them a definite competitive advantage and help differentiate themselves in their respective industries.
Call us today to inquire about how Dynomax can provide you with resources and solutions to automate your unique applications.