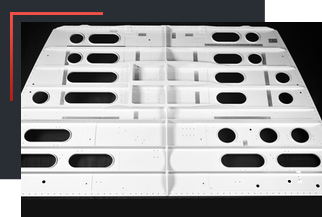 Dynomax uses thin wall machining to provide our customers with intricate and advanced solutions to reduce part cycle time by machining multiple parts as one piece. This advanced machining process, significantly reduces the need for expensive, time-intensive multiple-part manufacturing, including laborious and time consuming setup on different machines and riveting pieces together into a finished part.
Wall thickness can be machined to below 0.0100" (2.5 mm)
Our advanced high-speed machining centers supported by our sophisticated tooling and software enable us to achieve production of components machined within high tolerances.